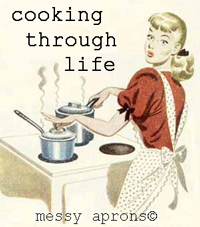 "Cooking Through Life" is a new series based on an idea from Lindsey's husband. We saw so many delicious recipes from our first giveaway and honestly I want to make all of them! For the next few weeks we'll pick a different category and people can link up their recipes so we can all participate. If we get a good response, then we'll keep 'em coming. Here's the three week schedule.
Sunday, July 18th:
Favorite Go-To Meal (Since we saw so many that sounded good!)
Sunday, July 25th:
Sunday, August 1st:
[YOU SUGGEST A CATEGORY!]
The first category is on us (Favorite Go-To Meal) and the second category is Favorite Breakfast Food . The third category is on you. Leave your comments on what food category you want to see for Sunday, August 1st. The category with the most comments wins!
PS - also feel free to grab our button when you are linking your blog!